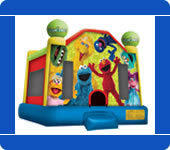 Medium Sesame Street Bounce House
Medium Sesame Street Bounce
Without a doubt, Sesame Street is more than just a television program - it's become part of our culture and includes a number of beloved characters that entertain and help children better understand our world. And now, they're available for your own party.
Planning the best parties has never been easier than calling The Inflatable Fun Co. today, and that's why we're the destination that planners rely on time and time again. A huge selection of inflatables and other party essentials guarantees that our team is ready and able to help with any party needs you may have. The Medium Sesame Street Bounce is just one of many other popular units.
In a hurry? The Inflatable Fun Co. offers online ordering and our full inventory is available online for review on your own schedule. Questions? Don't hesitate to call us. We have a trained staff with the know-how you can count on for Sesame Street and every other inflatable unit that we offer. The selection is second to none and we are proud to bring you a number of different ways to lock in the fun and secure the just-right inflatable rental you're after.
Big Bird and all the other characters of Sesame Street are iconic, lovable faces. They're welcome and encouraging for everyone, regardless of age! Charming and fun-loving, there's really no better cast of characters to invite to your own backyard party, block party, community event or church outing.
Staff members are standing by - and when it's time for delivery, we'll bring the Medium Sesame Street Bounce directly to your party location, with plenty of time to spare. We'll take our time to ensure proper setup, and a professionally dressed team arrives at pickup with courteous attitudes that have won us repeat business time and time again. When you're ready for Sesame Street to come to your street - you know who to ask! The Inflatable Fun Co. are your perfect party partners.