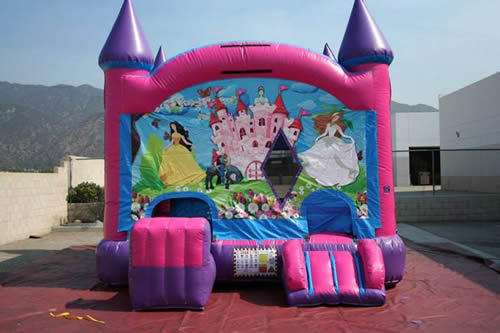 Princess Castle Combo Bouncer
Princess Castle Combo Bouncer
We all know a special princess - a loved one that we're planning a party for, and it has to be just right! Whether the entire party has a princess theme or not, the Princess Castle Combo Bouncer is a great idea and continues to please princesses of every age. What's included? This single rental includes a basketball hoop, an obstacle tunnel and a slide. 5-in-1 fun has never been easier, and the combined castle and princess themes really make this unit stand out.
Don't let the princess theme fool you - these units are durable, tough and offer safe fun for everyone by design. Routine inspection and frequent cleaning takes place for all of The Inflatable Fun Co. products, so rest assured you're on the right track when you place that call or order online.
Soft color tones invite partygoers to this combo unit, and it's perfect as a centerpiece for your special gathering. Or, book it as an accent piece at your next community fundraiser or student party. You'll see immediate smiles and know you made the right decision.
When you call today, our operators are ready to assist you. We're proud of our service and reputation, so you can rest assured that only the best of the best are connecting with you from start to finish. The Inflatable Fun Co. employees are always professionally dressed, courteous and members of your own community. Your party's success is important to us because it's part of our story, too.
Looking for other accessories and essentials? We've got you covered. Get in touch today and let's get started. The Princess Castle Combo Bouncer is just one of many inflatable units that we offer, and a full catalog is available online. No matter the party theme and guest list, we've got a unit that's just right for you!