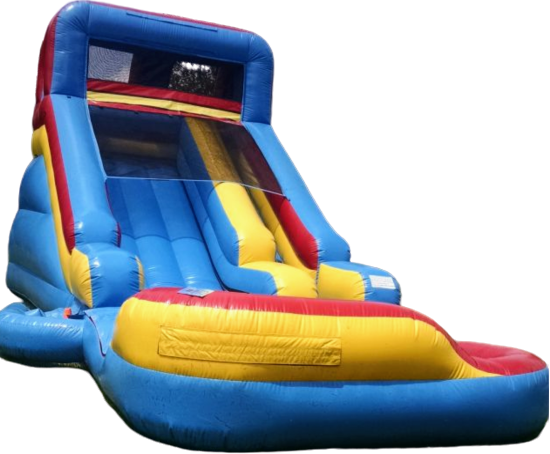 Slide and Splash Water Slide
Slide and Splash Water Slide
You know the saying - sun's out, fun's out! Outdoors is the place to be when the summer sun heats up, and there's no better way to cool off a whole party than with a water slide like the Slide and Splash Water Slide brought to you by the fine folks at The Inflatable Fun Co.
This spectacular unit can be used without without water, so keep that in mind. What's included? Picture your friends and family climbing up 14 feet to a no-jump level that encourages them to slide back down - in a safe and secure fashion that guarantees safe play for all ages. Young ones can climb to a wide slide area and land into an oversized detachable pool.
Bright, vivid colors help the Slide and Splash Water Slide stand out and get lots of attention. This one's a big hit with Cincinnati area churches and schools for year-round excitement. Memorial Day parties and birthday celebrations in local parks are also frequent destinations for this powerful inflatable unit.
The team at The Inflatable Fun Co. is standing by, so fire away with any questions that come to mind. We are experts at the art of party fun, and we have got the inventory and know-how to guarantee summer fun with a number of water slide units, guaranteeing that we will be able to provide just the right accessory or centerpiece for your great event. We also carry a number of essentials you might not be considering - so let's begin a conversation today and get started planning the party of a lifetime!