Welcome to TheInflatableFunCo.com
Welcome! You have found the source for clean, safe, high quality party inflatables. We carry inflatable bounce houses, slides, obstacle courses, and other interactive inflatables. The Inflatable Fun Co. has all your needs for your corporate picnic, school/church function, or child's birthday. We rent a variety of inflatable bounce house rentals from our economical 13x13 castles to out giant themed combo bounce house/ slides. Our service area includes Southwest Ohio, Northern Kentucky, and South Eastern Indiana. The Inflatable Fun Co. delivers clean, lead free, safe, state of the art units in different themes and sizes that are perfect for any event. The Inflatable Fun Co. has all of our prices listed here on our site.
QUALITY. CLEANLINESS. FRIENDLINESS.
The Inflatable Fun Co. prides itself on being a leader in the industry when it comes to the cleanliness of our inflatables. Our inflatables go through a 4-step cleaning process which is detailed below.

Step 1: units are completely vacuumed

Step 2: units are completely wiped down from top to bottom, inside and out, and in all corners and crevices with Simple Green d Pro 5. Simple Green d Pro 5 is a hospital grade disinfectant used for sanitizing and can be used in food production as well.

Please click the link below for more information on Simple Green d Pro 5 Disinfectant.

https://simplegreen.com/industrial/products/d-pro-5/

Step 3: An additional disinfectant is applied as a mist over the surface before the unit is rolled up for transport. The name of the disinfectant is OdoBan. OdoBan is another hospital grade disinfectant with a light fresh scent.

Step 4: An additional wipe down of the unit is done at the time of delivery to your event.

To our new customers: Thank you for taking the time to look at our products. We are committed to making your event a success. To our existing customers: Thank you for allowing us to continue to serve your party and event rental needs. Your continued trust in our service is appreciated. We are focused on your safety at all times. Please feel free to contact us to discuss our cleaning procedures or any other questions. 513-546-5340

Sincerely, Christopher Kulhavik, owner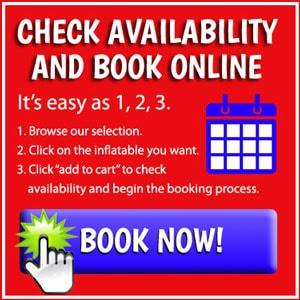 Easy Online Reservations
Booking your rental reservation online has never been easier. Just click the "Check Availability" button at the top of every page, anytime, and enter your event date and times. Then as you browse all the exciting attractions and equipment, you will be presented with everything available on your celebration day. When you see an item you want to rent, just click the "Add to Cart" button and begin building your shopping cart for checkout.
Once you start your shopping cart, you can continue to browse through our online store by clicking the "Continue Shopping" button. What to see what's in your cart? You can always check on what's in your cart at anytime by clicking the "Cart" button at the top of every page. Reservations on theInflatableFunCo.com site is truly easy as one, two, three! Experience the Inflatable Fun Company difference. We're ready when you are!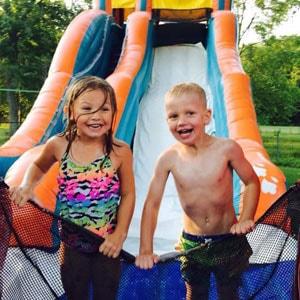 Company Picnics & Family Fun Day
Be a guest at your corporate picnic or family fun day. The Inflatable Fun Co. can plan and execute your company picnic. In addition to our full line of inflatables we have tents, tables, chairs, games, mechanical rides, concessions, catering partners, and entertainment partners to ensure a day of fun. Sit back and relax as our staff mans the inflatables, games, and food. We work within your budget to deliver a dream day for you, your team, and you families. You get to be a guest at your events with The Inflatable Fun Co!
Give your little one the birthday party you always wanted as a kid complete with carnival games and cotton candy. We can provide bouncers, a photo booth, face painters, balloon twisters and just about anything else you could desire. Make your child the envy of the neighborhood. Call us today!