About The Inflatable Fun Company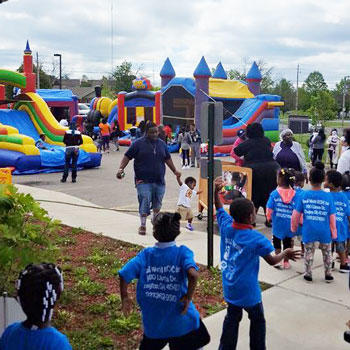 MISSION STATEMENT - The Inflatable Fun Co. is on a mission to bring happiness and joy to children and adults alike by providing state of the art inflatables, games and other party equipment.
How All the Inflatable Fun Co. Got Started
The Inflatable Fun Co. story is one of community engagement, support and growth. It's the story of two close friends pooling their resources, determined to make "fun" their day job, and - after quickly realizing just how important that business idea was to their friends and neighbors - to give back as much as possible.
The story is about more Inflatable Fun than anyone thought possible!
Les and Chris are more than just Cincinnati natives - the Inflatable Fun Co. founders raise their families here and are deeply invested in making our little corner of the world a better place to live. They know what makes Cincinnati such a special place to be, and bring a whole lot of know-how to indoor and outdoor events. They're the team you'll want on your side when it comes time to plan your next private or public event.
Event Rentals for Cincinnati, Northern Kentucky and Dayton
The Inflatable Fun Co. was an immediate hit! The business background that Les and Chris both brought to the table was complemented by a friendly attitude that won them a ton of referrals and repeat clients. The news traveled quickly - requests soon came in from families and groups outside of the core Cincinnati area, and today The Inflatable Fun Co. frequently provides party and event rental items throughout Northern Kentucky and along the I-75 corridor to Dayton and all the suburbs along the way.
"It's been a thrill serving the communities we love," Les shares on a recent road trip, making a delivery just past Blue Ash, up I-71. He's navigated highways and boulevards all over the area. Norwood, West Chester, Springboro, Newport and every corner in-between! Inflatable Fun is no stranger to public event spaces like Ault Park. Planning your event indoors at Backstage Event Center, Music Hall, Schuster Performing Arts Center, Southgate House Revival or the Woodward? Les and Chris are able to accommodate just about any space.
Party Rental Team You Can Trust
The continued success wouldn't be possible without The Inflatable Fun Co.'s knack for putting together a network of team members that's second to none.
A proven track record speaks for itself, and The Inflatable Fun Co. has made all the difference in community fundraisers, church events, private birthday parties and corporate team-building get-togethers. Inflatable bounce houses, event furniture, water slides and concessions equipment are just a small part of an ever-expanding inventory. The team is always professional and personable, patient with questions and knowledgeable.
Thousands of smiles later, Les and Chris couldn't be happier with their decision to make "fun" job #1. The Inflatable Fun story is an ongoing one - with as many friendships and celebrations along the way as the story of our own Ohio River Valley. Non-profit community organizations and for-profit event promoters alike call on Th Inflatable Fun Co. for great results.
The Inflatable Fun Co. is proud to be a leading provider for parties and events of all sizes. There's a good chance your friends and family are already happy customers! Contact your friends at The Inflatable Fun Co. today to get started planning the event of a lifetime.