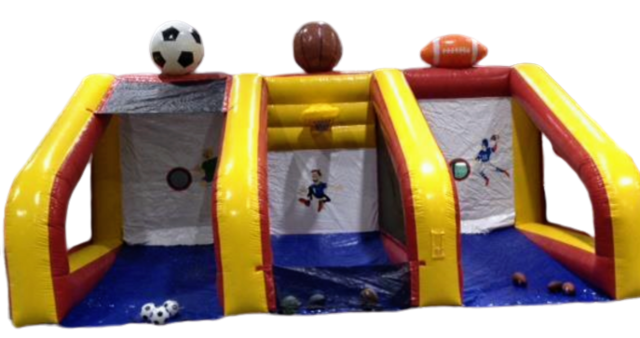 3 in 1 Sports Blast






3-in-1 Sports Blast
Three times the fun, before the party's done! The 3-in-1 Sports Blast is one of the most popular units offered by The Inflatable Fun Co., and it's pretty clear why - it's a great fit for sports theme parties hosted for any age, and it's a great accessory for birthday or sports outings. Imagine having this kind of fun at any sporting event! We have done it, and it's always a goal.
But it's not just about hitting the goal. This unit encourages themed play with football, basketball and soccer in mind! And, like most sports fans, you will quickly realize that this one's popular at just about any party setting where guests are looking for fun. Compete by tracking accuracy and seeing how the others at your party do when the heat is on. Another great way to play is with three competitors going at once, which means rapid-fire fun entertaining a lot of folks in a short period of time.
Best of all, it's a sporting and competitive unit that requires very little setup and absolutely no clean-up. Vibrant colors dazzle and hands-on fun gets the adrenaline pumping!
As with all of our units, the 3-in-1 sports challenge is routinely inspected and always set up for proper use. We have a talented staff, always patient and helpful in the most challenging situations, and able to help you navigate the waters of event planning with skill and grace. Call The Inflatable Fun Co. today, to make the 3-in-1 Sports Blast yours!
The Inflatable Fun Co. is proud to offer a number of other interactive game rentals like the 3-in-1 Carnival Crush, Bluetooth Disco Dome and the Batter Up T-ball Challenge. Check out our online catalog and call or email with any questions. We are ready when you are!