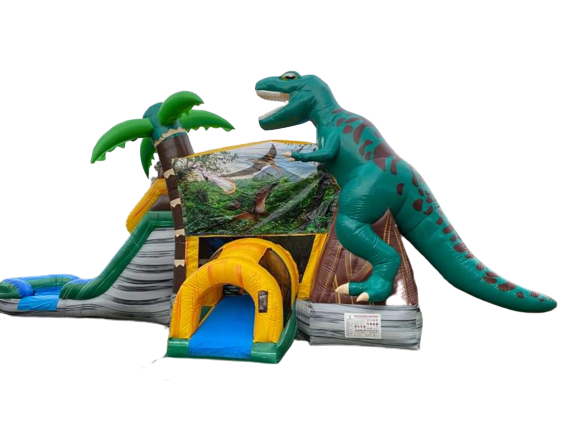 Dinosaur Wet Dry Combo
Actual Size: 38x16x15
Setup Area: 20x40




Dinosaur Wet-Dry Combo
Ready to ROAR?! The Inflatable Fun Co. is pleased to present one of Greater Cincinnati's most exciting inflatable bounce/slide party rentals, the Dinosaur Wet-Dry Combo. A monstrous T-rex looms overhead with palm tree decorations sky-high. Guests enter the bounce unit and tackle nonstop fun for either indoor or outdoor thrills.
It's no secret that dinos are at the top of the party request list for both boys and girls, and if you're looking for an unforgettable party experience then look no further. The Dinosaur Wet-Dry Combo is what you need!
If the party's outdoors and under the warm summer sun, don't forget to add a splash of water to really make the Dinosaur Wet-Dry Combo roar! Guests won't soon forget the dino-sized fun you were able to provide by reserving the Dinosaur Wet-Dry Combo for yourself.
Please note: this unit is frequently booked weeks in advance. Call us today to make sure it can be yours for any special event! It's not just kid's stuff - we've seen this unit enjoyed by party goers of all ages.
We're Greater Cincinnati's top party accessories rental company, and we're experts at having fun. We're standing by to help advise custom party packages, and we can work with nearly any budget.
You can party with peace of mind: All of our Inflatable Fun units are professionally cleaned with hospital-grade disinfectant, fully inspected, and professionally delivered. You won't have to lift a finger! That's what we're here for.
Looking for more party accessories? We've got you covered. Don't forget to ask us about seating, tables, tents, concessions, and oversize games. If you're looking for even more Inflatable Fun, check out our Radical Run Deluxe, Surf's Up Wet-Dry Slide, or the Extreme Basketball Challenge. Call or email us today - it's time to party!
Princess Combo
What children's party is complete without a princess themed inflatable bounce house? Look no further, friends — Inflatable Fun Co., Greater Cincinnati's number-one name in party entertainment, is proud to once again deliver. Behold, the 5-in-1 Princess Combo!
With purple, pink, and blue pastels, this colorful unit features impressive spires overhead. The Princess Combo is so much more than just a bounce house, though. It includes a basketball hoop, obstacle course, tunnel, and a slide. Let the good times roll!
Inflatable Fun is proud to serve our friends and neighbors with quality units like the Princess Combo. These products are prepared from durable vinyl components that really stand up against rough play from kids of all ages.
Safety is also important to us (and you!). All of our products are twice-sanitized with hospital grade disinfectant, and routinely inspected for defects. We have a professional team that completes a full setup on-site, and will be ready to answer any questions you might have about proper use. Want to get the most of products like the Princess Combo? Be sure to ask for tips and tricks that elevate the party experience.
We're professionals in the business of having fun, and our team is standing by to field your phone call or email. We're able to provide custom party packages and can work with nearly any budget.
Of course, we provide a lot more than just the Princess Combo. Be sure to check out some of our other inflatable units, like the Cowabunga Wet-Dry Combo, World of Disney, or Radical Run Deluxe. Products like these encourage healthy, active play for both individual and competitive team play. There's simply nothing like the thrill of a bounce house or jumper unit.
Don't forget other party supplies — like seating, tents, concessions, and games. We've got those, too!