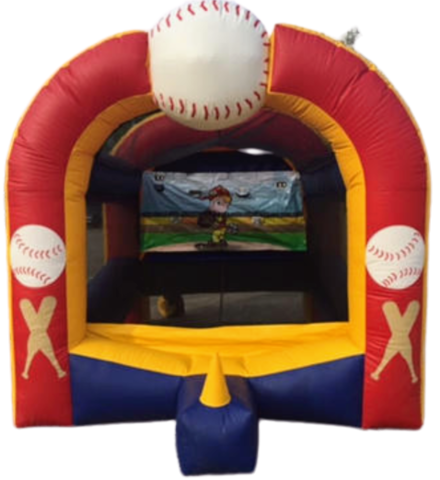 Inflatable T ball Challenge
Batter Up T-ball Challenge
Knock your party plans out of the park and really bring it home when you secure the Batter Up T-ball Challenge for your next special event or life-changing party. This one packs a ton of fun for all ages, so you can rest assured that everyone's going to have a blast.
Step up to the plate! Picture yourself at the ballpark, ready to hit one into the stands. Bring safe exciting fun to the plate and be the party's VIP. Compete or not - everyone's a real winner here and the party's better for all the thrilling baseball talk that it's bound to generate. No matter who you root for, take to the field in style with your party's next great addition - the Batter Up T-ball Challenge is a swing and a … hit!
Batter Up T-ball Challenge is a safe bet, when it comes to clean fun. All units like this one are routinely inspected by The Inflatable Fun Co., and cleaned for complete satisfaction. We have a staff like none other, standing by to take any questions you might have about the Batter Up T-ball Challenge - or any of our other great units. Let's make the connection, today!
The Inflatable Fun Co. has all the excitement you can handle, and that means other games like 3-in-1 Sports Blast and Giant Soccer Darts. We carry essentials like seating and chairs, too. We're the party authority, and here for you!