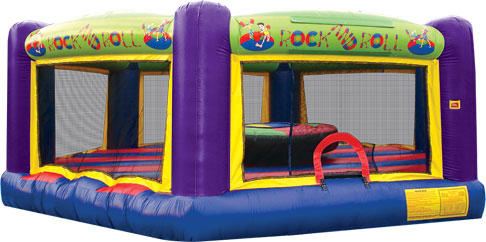 Rock n Roll Joust Arena








Rock and Roll Joust Arena
Amateur with jousting aspirations? Sure, we have all been there. Let's take it to the next level with some rock and roll flash and folks, now we are talking!
Here's how the Rock and Roll Joust Arena - now brought to you by the folks at The Inflatable Fun Co. - works, exactly. Players enter the hexagonal (that:'s six sides) arena and make their way to the central raised pillar for jousting, to defend their spot and claim all the party glory! It's all completely safe and fun with durable construction and inflatable setup.
Vibrant, colorful decorations and theme make this one especially eye-catching, with dizzying red and blue stripes calling for all the fun and bringing hours of entertainment to nearly any age group. Rock n roll is here to stay! Whether you're a fan of the Rolling Stones, a die-hard Dead Head, a grateful Guided By Voices fanatic or tuning into the latest Metallica hit, the Rock and Roll Joust Arena is a great time spent while cranking the classic and soon-to-be tunes that all your friends dig.
The Rock and Roll Joust Arena is routinely inspected and always clean - ready to go when you are. Our staff is top-notch and always patient in challenging situations, ready to help you navigate the event setup with grace. The Inflatable Fun Co. is the only place to call if you want the Rock and Roll Joust Arena - don't miss out!
Our talented staff at The Inflatable Fun Co.deliver the fun, and our catalog includes other game rentals like Human Fly / Velcro Wall, 3-in-1 Sports Blast and the Wrecking Ball. Bring us on board to take your next event or get-together to the next level for a truly outrageous jam! It's just that easy.