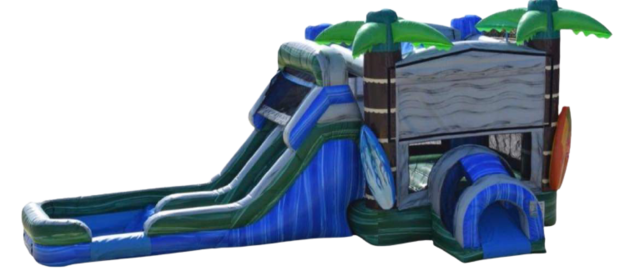 Cowabunga Combo Wet/Dry
Cowabunga Wet-Dry Combo
Cowabunga, dude! Surf's up and the sun's out. The only thing missing is you!
Inflatable Fun is pleased to present one of our latest inventory additions, the popular Cowabunga Wet–Dry Combo. Decorated with surfboards and palm trees, this unit is a no-brainer for outdoor summertime fun.
Our expert team is now able to offer the Cowabunga Wet-Dry Combo for indoor play, in addition to outside fun. And - if you're partying outside - you'll want to consider adding a splash or two of water. Guaranteed to make everyone shout, "Cowabunga!" Lots of ways to have fun with this bounce unit - entry paths, slide, and even a splash area for endless excitement.
Kids of all ages (and who doesn't feel like a kid in the summer sun?) call us up to make sure the Cowabunga Wet-Dry Combo will be ready when their next big event rolls around. Tough vinyl construction ensures that even rowdy partygoers can have their fun. Party with peace of mind: All of our units are thoroughly inspected and disinfected on a routine basis. Safety is our priority!
Customers who like our Cowabunga Wet-Dry Combo are encouraged to browse the rest of our inflatables inventory. With an industry-leading selection of bounce houses and party units, check out items like the Dinosaur Wet-Dry Combo, Radical Run U-Turn, Radical Run Deluxe, and the 18' (!) Paradise Plunge.
Your hometown Inflatable Fun Co. carries a lot more than inflatable bounce houses and slides. Looking for concessions, like popcorn? Look no further! We can also help with seating, tents, and large games. We're in the business of fun, and our pros are standing by. Call or email right now to begin the planning process. We're able to assemble custom packages for nearly any budget, and we're eager to get started. Now let's party!